Avant votre choix
Un nettoyant pour le visage est la base de toute routine de soin de la peau. Afin de choisir le bon nettoyant, il est important de connaître votre type de peau.
Que rechercher dans les nettoyants pour peaux sensibles
Utilisez une crème hydratante aux céramidesLe nettoyage de peau n'est pa une étape essentielle du soin de la peauLe nettoyage de peau n'est pas une étape essentielle du soin de la peau
Si la peau tire après le nettoyage, cela signifie qu'elle est parfaitement propre
Nettoyer sa peau plus de deux fois par jour et après une séance de sport peut contribuer à améliorer l'acné
Vous n'avez pas besoin d'adapter votre nettoyant aux différentes saisons
What is the ideal cleanser for your skin type?
A facial cleanser is the foundation of any skincare routine. In order to choose the right cleanser, it is important to know your skin type.
Before your choice
The primary purpose of cleansing is to remove make-up, pollution, dirt and excess oil from the skin, but this step also offers the possibility of obtaining additional benefits through specific ingredients that can improve health. and the general appearance of your skin. The ideal face wash formula depends on your skin type, which can vary from season to season and even fluctuate based on hormonal or environmental factors (such as traveling to a climate your skin is not accustomed). The five main skin types are normal, dry, oily, combination or sensitive skin. There are multiple cleanser options for each, and you can also choose based on your texture preference.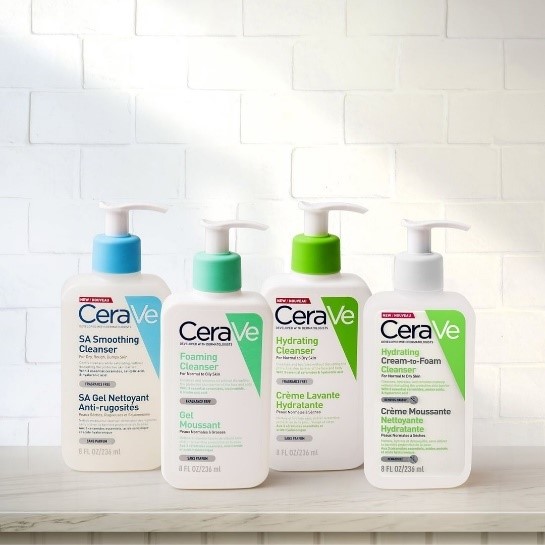 Misconceptions about skin cleansing
Skin cleansing is not an essential step in skin care
If the skin pulls after cleaning, it means that it is perfectly clean
Cleansing your skin more than twice a day and after exercise can help improve acne
You don't need to adapt your cleanser to different seasons
When choosing a face wash, you may be confused by so many possibilities, but if you know your skin type, it's easy to narrow down your choices. Cleansing isn't just about removing dirt, makeup, and excess oil, and this important step can help address specific skin concerns and needs.
Normal skin  : This type of skin is neither dry nor oily, pores are not visible, without acne or sensitivity.
Dry skins :
The skin is considered dry when it lacks water and its natural sebum. This type of skin may exhibit a rough texture, visible fine lines and wrinkles, a dull appearance and loss of bounce, as well as increased sensitivity and a feeling of tightness and discomfort.
Oily skin :
Oily skin produces too much sebum and is susceptible to enlarged pores, blackheads, pimples and unwanted shine.
Combination skin:
This type of skin has dry areas and oily areas. It's common to have a dull, rough texture in some places and large pores, blackheads, and shine in others (especially around the nose, chin, and forehead).
Sensitive skins :
Sensitive skin tends to react to external factors, including skin care. Signs of sensitive skin can be tingling, burning and redness.
Types of facial cleansers
Once you've identified your skin type, choosing the right face wash is much easier. The vast majority of facial cleansers clearly state on the label what type of skin they are made for, so be mindful when shopping. With the wide variety of types of facial cleansers available, you might prefer one in the morning, another in the evening, and possibly a different formula for the gym or when you're on the go. Whichever facial cleanser you choose, a product containing ceramides can help provide effective cleansing without disrupting the skin's barrier.

Foaming gel
A facial cleansing gel effectively removes makeup as well as dirt and excess oil. These are usually formulas that foam. Facial cleansing gels can be formulated with additional ingredients like hyaluronic acid for hydration, found in CeraVe Foaming Cleansing Gel; or even salicylic acid to gently exfoliate, as in our Anti-Blemish Cleansing Gel cleanser. However, it is important to look for a gentle facial cleansing gel that does not dry out the skin.
Skin types: Normal, oily, sensitive

Facial cleansing creams & lotions
In addition to effectively removing makeup, dirt and excess oil, these facial cleanser formulas provide moisturizing and soothing benefits with a comforting texture. Depending on the product, facial cleansing lotions and creams can lather, and these formulas can also target specific skin concerns such as dry skin, thanks to hyaluronic acid or ceramides. We recommend our Moisturizing Cleansing Cream with its gentle formula, enriched with hyaluronic acid and essential ceramides.
Skin types: Normal, dry, oily, sensitive.

Micellar water
Effective cleansing doesn't necessarily require water or rinsing, and our Hydrating Micellar Water rids skin of excess oil, dirt and makeup without irritating it or disrupting the skin barrier. This type of cleanser contains molecules called micelles that act like magnets to trap dirt and oil without the need to rinse. Also suitable for the delicate skin around the eyes, this micellar water, enriched with ceramides that restore the skin barrier and soothing niacinamide, is easy to use, both at home and every time a classic cleansing based on skin. water is not possible.
Skin types: Normal, dry, oily, combination, sensitive.

Cleansing bar
There is a big difference for the face between a traditional soap and a cleanser in the form of a bar. Our moisturizing cleansing bar, soap-free and made from a moisturizer, effectively removes make-up, dirt and excess sebum, gently on the skin. It also contains hydrating hyaluronic acid and ceramides that strengthen the skin barrier, in an easy-to-use family format.
Skin types: Normal, dry, sensitive